Hello Seven hosted a virtual town hall event last year following the murder of George Floyd. The aim of the Town Hall was to reimagine small businesses moving forward from that pivotal point in history. If you yourself run a small business and haven't seen it, I recommend you watch the meeting here. The result of the meeting was asking small business owners to sign up to the Anti-Racist Small Business Pledge (see image below).
---
The Anti-Racist Small Business Pledge defines anti-racist as: "those who speak and act in ways that advance racial equity in society; the act of interrupting racism."
---
Our Anti-Racism Pledge
I am the owner of Hey Saturday and alongside my partner and business partner, Giles, we actively stand in solidarity with Black, Brown, Indigenous, Minority Ethnic, and People of Colour (BIPoC) to dismantle systemic racism, white supremacy culture, and oppressive systems that are at the heart of our society.
We recognise the realities of systemic racism in our world as well as local communities and strive to uphold an anti-racist culture, policies and procedures. To do this we will continuously examine our organisational and individual biases and work to learn, improve, and overcome them.
We are committed to operating an anti-racist organisation and using our resources to advance racial equity and interrupt racism.
We're committing ourselves and Hey Saturday to a lifelong journey towards becoming anti-racist.
And while words matter, they are not enough.
We have taken the Anti-Racist Small Business Pledge.
Anti-racist education
We pay a monthly subscription to Outer Work, a community care club dedicated to intimate + impactful education, reflection, and direct action in support of BIPOC visions. I will commit using 10% weekly working hours alongside my personal time to learning.
Hey Saturday is an ambassador for Outer Work, as we believe their work is so important and impactful. Please head here to check them out (Please note this isn't a paid link, of course, it's just so they can track you came via us)
We've signed up to an online Global Black History Course for Adults run by the Simon Education
We are committed to reading books by BiPoc authors to further our understanding and knowledge of Black history, white supremacy, racism and Black lived experiences.
Commitment to open-conflict and allowing discomfort
While I'm biracial (white British/Jamaican), Giles is white. Over the years, we have created a safe, compassionate space to talk at length about racism and its impact. We are highly committed to open conflict and have learned to make room for discomfort, which we believe informs our company culture.
Invest a portion of our monthly company budget to the Black community
We invest a substantial amount of our small marketing budget into black-owned business. Coppie & Paste is our preferred supplier, run by a young black woman. We will continue to monitor where our budget goes and increase the amount going to BIPoC owned businesses.
We donate monthly to Black Minds Matter, an organisation that provides free Mental Health Resources & Therapy for Black Trauma.
We work in partnership with One Tree Planted. For every Hey Saturday photoshoot we sell, a tree is planted in Ethiopia. We believe you can't build a just and equitable society on a planet that's been destabilised by human activity. The fights against climate change and racial injustice are deeply intertwined as marginalised communities are disproportionately impacted by it.
---
Like fighting an addiction, being an antiracist requires persistent self-awareness, constant self-criticism, and regular self-examination.
– Ibram X. Kendi, How to Be an Antiracist
---
Hey Saturday's long-term commitment to becoming anti-racist
We will:
continue to strive for representation in the imagery used on our website, emails and social media;
review how we reach out to new photographers joining our network & take a more creative approach to reach BIPoC creative communities. We're aware that our photographer network isn't as representational of BIPoC communities as it needs to be or as we want it to be;
actively continue to source and support BIPoC owned businesses and businesses that support social impact in gender and climate equity;
use our business and platform for positive social impact through education;
actively protest and campaign against racial injustice, and vote for equitable policies;
call out racism when we see it;
continue to educate ourselves.
Here is a copy of the pledge we signed. If you run a small business, I would highly recommend that you check this out.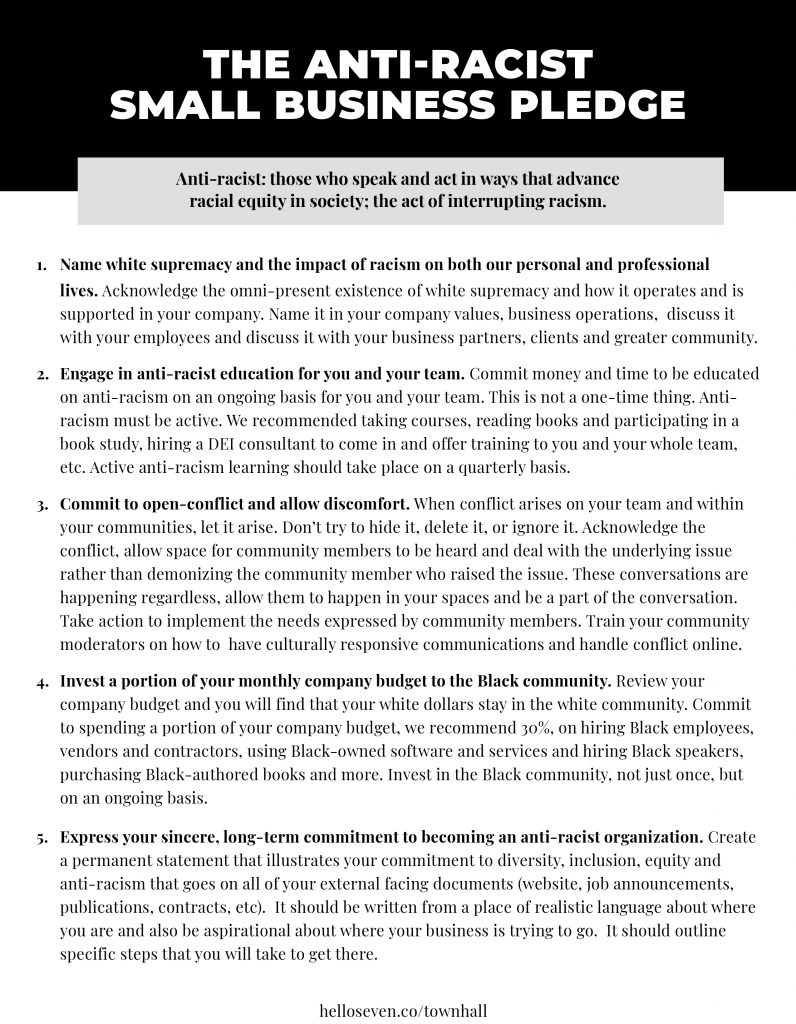 Resources
Assessing Organisational Racism Tool (PDF)
Anti-Racism Assessment Tool (PDF)
Organisational Racism Self Assessment (PDF)
Further Reading, Watching & Listening
Black Lives Matter – the movement to fight for freedom, liberation and justice
Re-educate – a free monthly subscription to activism
The Difference Between Being "Not Racist' and being Antiracist – Ibram X. Kendi TedTalk
The Greatest White Privilege is Life Itself – article by Ibram X. Kendi
The Black LGBT Organisations You Should Know About – Stonewall
Stonewall's Best Practice, Toolkits and Resources – Stonewall
Mental Health Issues Facing the Black Community – Sunshine Behavioral Health
20 Actions White People & Non Black POCs in Corporate (& other) Can Take to Show Up for Black People Right Now – Michael J.A. Davis
Decolonise your Book Shelves – Ally Henny
Films & Documentaries to Educate Yourself on Racism and Black Oppression – Isabella Silvers
12 Great Podcasts That Discuss Race & Racism – Oprah Winfrey
How to Deconstruct Racism One Headline at a Time – Baratunde Thurston